SERVPRO is the Trusted Choice for Mold Removal in Hollywood
11/29/2018 (Permalink)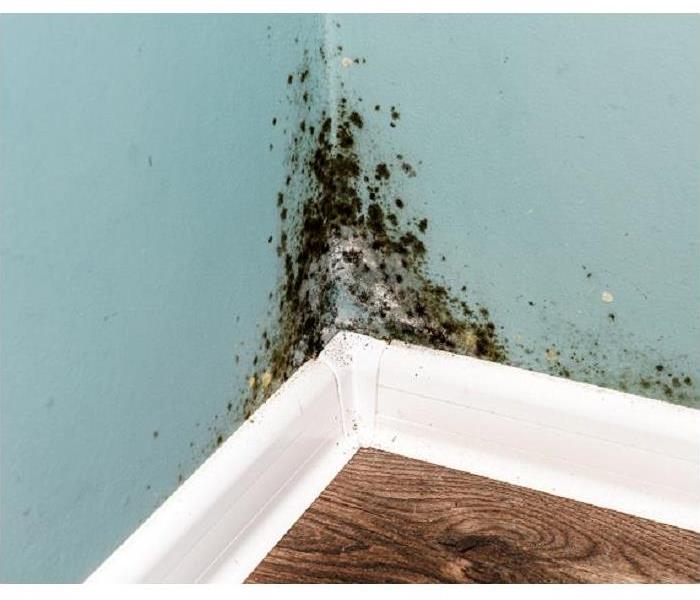 Many times, more mold is hidden below the visible mold. Inspect your home regularly for signs of mold.
Why SERVPRO Is A Trusted Mold Damage Remediation In West Hollywood
Although finding evidence of mold in your West Hollywood home is concerning, there is no need to panic. Early recognition of a mold infestation is the best scenario, but the reality is that mold can hide behind walls and above ceilings. You need a mold remediation company that can adapt its treatment as needed and that uses advanced technology to keep debris from spreading during removal. We offer that flexibility.
The Environmental Protection Agency (EPA) developed the protocols we use when remediating mold damage in your West Hollywood home. Locating the extent of the mold growth is step one. Although mold testing is a possibility, often the distinctive musty scent and visual verification of staining or the glimpses of feathery or leather mold growth is enough to pinpoint the problem areas.
Containment is the next challenge. Our crew has both physical barriers made of plastic sheeting and negative pressure air scrubber configurations as options. Sealing in the mold residues during the cleaning is the key to preventing mold spores and particles from drifting into other living spaces. The use of innovative equipment like the air scrubber offers an extra level of protection, and our team also don personal protective equipment during the cleaning. The deliberate use of practical containment techniques is why SERVPRO is a trusted remediation company.
Removal is a mechanical process, our employees using scrapers and brushes to loosen the mold growth before bagging the debris for disposal. SERVPRO crews scrub non-porous surfaces with good effect, returning them to function. Porous surfaces are not all lost as we also employ the gentle abrasion of soda blasting to remove the hyphae or "roots" from objects infected below the surface.
After the removal of the mold, SERVPRO remediators clear away any residual mold particles with HEPA filtered vacuums. We apply EPA registered antimicrobials to the surfaces to inhibit regrowth.
Eliminating the moisture source must be done to complete the mold remediation process. Why SERVPRO technicians are a good fit as remediators are their ability to sleuth out where the water invades and migrates. The moisture might be from a leak, spill, or even excessive humidity. We help determine the problem and arrange for repair. Mold reappears quickly if the water returns.
SERVPRO of Bel Air / West Hollywood offers discrete yet efficient mold remediation services. If you suspect mold has taken hold, call us immediately at (310) 572-6132 for an evaluation.
Four brothers from Ohio set up a studio in Hollywood in 1918. Click here for more information about Warner brothers.