Prevent Fire Damage To Your Melrose District Home This Holiday Season
12/11/2017 (Permalink)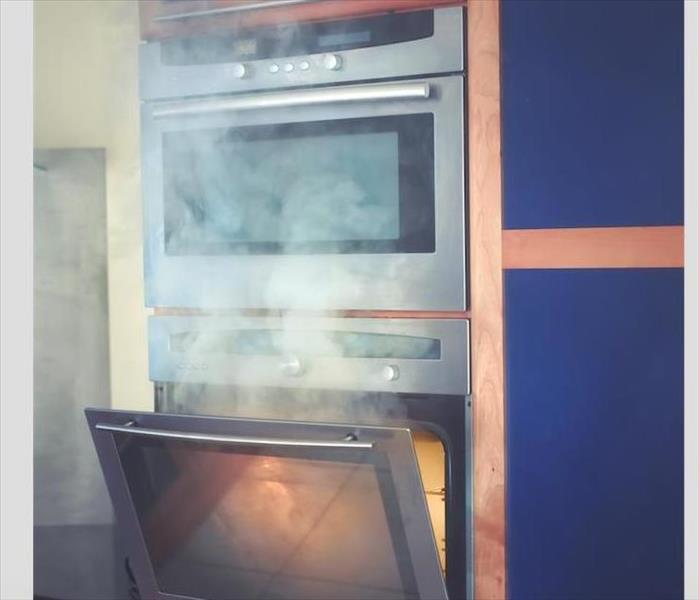 Food cooking unattended on the stove or in the oven can start a fire. Don't get distracted while cooking and contact SERVPRO if you have a fire.
Our Technicians Remediate Fire Damage As Well As Offer Tips to Help Avoid the Possibility of Facing a Fire
'Tis the season to be jolly. However, that does not mean it is the season to stop being vigilant about home fire damage. In fact, with all that wrapping paper, lots of cooking, and festive decorations in your house, it is wise to be extra careful at this time of year. Here are SERVPRO's top tips to help Melrose District homeowners stay safe from blazes this holiday time.

Fire damage to a Melrose District home is frightening and traumatic for those who experience it. There are also after effects to consider such as soot damage, destroyed belongings, and an unpleasant lingering smoke odor. Thankfully, SERVPRO is on hand to assist with clean-up after a blaze. Our IICRC-certified technicians carefully scrub, wipe and clean away soot, and use thermal fogging and air scrubbers to take away horrible smoky smells. Of course, prevention is always best, so here are some tips to help you prevent fires this winter.

Do not leave burning candles unattended – even better, do not burn candles at all. Air fresheners, potpourri, or even natural scents like pine or cinnamon sticks all give a pleasant scent without the risk of starting a blaze.

Do not leave cooking food unattended. It is easy to get distracted while preparing a festive meal. However, unattended pans are a leading cause of home fires, so it is essential to keep an eye on them at all times.

Be mindful of the placement of portable heaters. Do not place heating units too close to festive decorations, indoor trees, or where drapes or rugs might fall across the surface.

Always switch off festive lights, along with any appliances, before you head to bed, and before you leave the house. Do not leave lights or appliances plugged in when there is nobody home.

Make sure you have a smoke alarm installed on every level of your home, and that each alarm is in good working order. If you have not done so recently, we suggest testing them after you read this article.

Stay safe at home this festive season in Melrose District, Meho, and Bel Air, and if you need fire damage remediation, call SERVPRO of Bel Air / West Hollywood at (310) 572-6132 for help.

For more information regarding Melrose District, click here.