Hollywood's Water Removal Experts Explain Problems with Insulation
5/10/2018 (Permalink)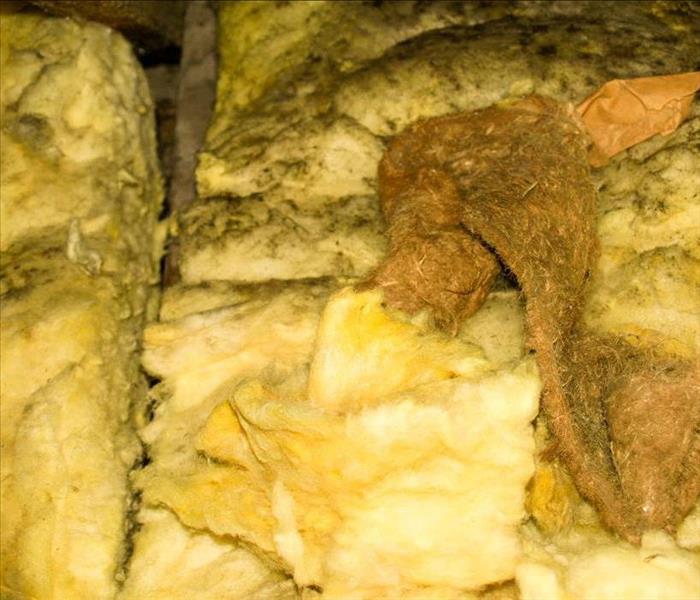 SERVPRO Says--We Remove Wet Insulation In Hollywood Homes After Water Intrusions to Help Prevent Mold and High Electrical Bills
SERVPRO Can Identify Hidden Moisture and Re-Establish Acceptable Dryness with Measuring and Treating
It is always possible that things can go wrong inside your Hollywood home and water leaks into an area that was not designed to handle moisture. Water can cause many problems to the interior of a house. Moisture can ruin building materials and contents if enough water is present in an area for too long.
If water does not get removed from all organic materials in the home, mold growth can occur. To prevent future fungal problems water removal in a Hollywood residence should take place within 48 hours. In some cases, structural contents can get damaged requiring replacement so that future issues do not arise.

One structural component that is susceptible to damage if it gets wet is insulation. Moisture can lessen the insulating power of the insulation material. Some types of insulation get ruined quickly when they get wet while other kinds can be saved by drying.

Some types of insulation including cellulose and Rockwool can mat when they get wet. Moisture can also affect the "R" value, fire resistance, and antimicrobial properties of cellulosic materials. Rockwool has small strands of metal inside it that can rust when it gets wet. Both cellulose and Rockwool insulation types often get replaced when they are damaged by moisture. Our SERVPRO technicians can readily establish the best course of action.

It is possible to dry fiberglass insulation, but it is not always straightforward. Vapor barriers built into the padding slow down the drying of the fiberglass. Drying the insulation inside enclosed walls and ceiling cavities may prove to be extremely difficult. However, if insulation is not entirely dried out promptly, then mold can develop on wooden studs and trusses.

Before our SERVPRO technicians attempt to dry out a wall cavity, they use monitoring meters to test the moisture content. Moisture meters have probes on them that can penetrate into the wood and drywall of the affected area leaving almost invisible tiny prick holes. The meter then reads how much moisture is present in the materials.

If the moisture level of the materials in the affected area is significantly higher than the levels of unaffected regions, then drying out the wall cavity is necessary. The best way to dry out walls is to remove the baseboard and drill holes at the bottom of the wall behind it. If the moisture inside the walls is excessive, then the drywall gets removed a foot or two from the floor.

Drying wall cavities is essential in preventing future secondary water damage. For professional assistance with water-related problems, call SERVPRO of Bel Air / West Hollywood at (310) 572-6132 any time.
Do you recognize this sign?