Winning Tactics for Water Damage Remediation For Your Bel Air Property
7/16/2019 (Permalink)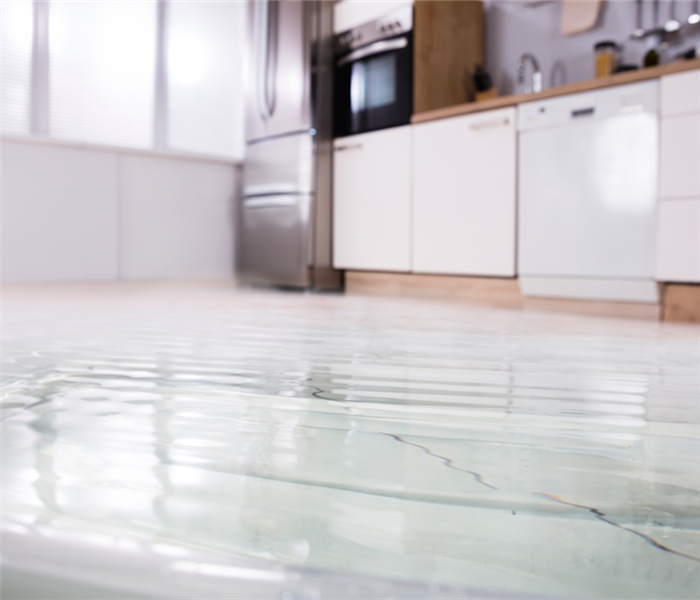 A simple dishwasher mishap can cause major damages. Call the professionals at SERVPRO today for remediation assistance.
Bel Air Balancing Act: Contents and Structures Both Need Water Damage Remediation
When a pipe breaks or an appliance fails inside your Bel Air home, it is rare to find damage confined to just one area. The moisture also harms not only the spaces inside your home but also its contents. Managing a fast and effective response to a water loss requires attention to both structural components and the collection of household goods, furnishings, and personal possessions affected by the moisture. Our team of mitigation and remediation specialist can handle both.
When water damages your Bel Air abode, we might recommend a pack-out of wet articles. The reasons for this vary, but most important is clearing the space for intensive mitigation and remediation efforts. If the on-site crew must move and reposition furniture and other articles constantly as the project progresses, we waste time and additional expense. Damp items can stain flooring and add to the ambient humidity of the house, slowing structural drying.
The portable items also lose when they stay in your home. If still dry, they risk absorbing moisture in your residence throughout the project. Wet articles have unique cleaning and drying requirements. Our SERVPRO production facility technicians use industry best practices learned during Institute of Inspection, Cleaning and Restoration Certification (IICRC) training to customize the approach for every piece of property moved out.
Furniture benefits from smaller drying areas, where our employees can adapt air movement, heat, and dehumidification to remove moisture quickly without over or under drying components. Papers and pictures you feared were headed to oblivion rebound when we utilize free drying techniques. SERVPRO has access to industrial washing and drying systems for clothing and other soft items. Electronics regain function when dried appropriately.
SERVPRO's pack-out protocol is secure and detailed, providing documentation for you and your insurer. We employ the Contents Claim Inventory Service (CCIS), listing, photographing, and barcoding items as appropriate. When your house is cleaned and dried after the water loss, we transport your remediated possessions from our climate-controlled facility to make it a home again, "Like it never even happened."
Rely on SERVPRO of Bel Air / West Hollywood to strike the correct balance when both building materials and your possessions take an unexpected and unwanted bath. Call us at (310) 572-6132 to discuss your water damage remediation options.
Click here to see more about Bel Air.